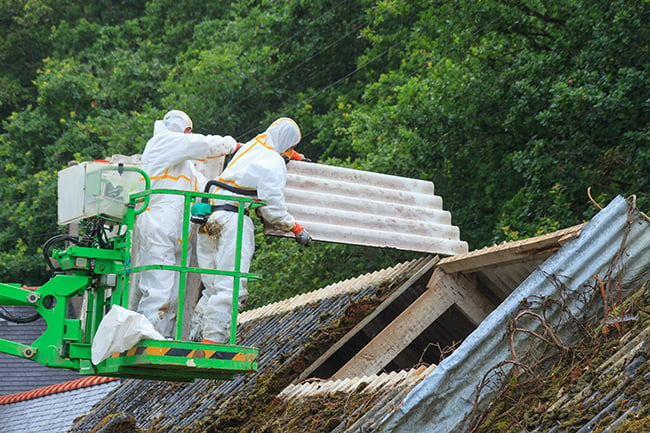 If you've been thinking about, or planning for, a knock down and rebuild project, you've probably at least considered the possibility that the property you are knocking down will require asbestos removal.
Many houses built before 1990 contain asbestos cement materials, especially in the eaves, internal and external wall cladding, ceilings (particularly in wet areas such as bathrooms and laundries) and fences.
According to the Department of Health, if a home was built before the mid-1980s it is highly likely that it has asbestos-containing products. If it was built between the mid-1980s and 1990, it is likely that it has asbestos containing products. Whereas if it was built after 1990, it is unlikely that it has asbestos-containing products.
Given that most knock down and rebuilds are carried out on homes older than 30 years, asbestos removal is pretty much part and parcel of the process of knocking down a property.
The differences between asbestos removal providers
When carried out properly, asbestos removal is a very safe undertaking and there are plenty of asbestos removal companies out there who can get the job done according to relevant guidelines and legislation.
It's important to be aware that the government issues different types of asbestos removal licenses and not every provider is licensed to handle and remove all kinds of asbestos containing materials.
There are two types of asbestos removal licenses:
Friable asbestos - Class A license
Non-friable (bonded) asbestos - Class B license
Class A asbestos removal license holders can remove and dispose of any amount of friable asbestos. Friable asbestos is where the raw mineral is used as lagging or insulation – in this form it is friable and easily gives off dust when touched or moved. The dust fibers are extremely dangerous to inhale.
On the other hand, Class B asbestos removal license holders are only covered for the removal of:
More than ten square metres of non-friable (or bonded) asbestos. Non-friable asbestos refers to asbestos that has been mixed in with other materials, such as cement. In this form, it is non-friable and therefore less likely to break into pieces and for the fibers to become airborne.
Any asbestos contaminated dust or debris associated with the removal of this non-friable asbestos.
Class B license holders are not authorised to remove any amount of friable asbestos.
Because a Class A asbestos removal license requires much more specialised training compared to securing a Class B license, there are more Class B license holders than there are Class A license holders.
When carrying out a knock down and rebuild, an independent assessor is hired to inspect a property to determine whether a Class A or a Class B provider will be required to conduct the asbestos removal work.
The costs of removing asbestos for a knock down and rebuild
Usually, the cost of removing asbestos is not overly prohibitive, with most homeowners spending between $4,890 - $12,482 to have all asbestos containing materials safely removed and disposed of. This amount of course varies greatly between individual rebuild projects and is based on how old the house is, what condition it is in, how much asbestos needs to be removed and the type of asbestos materials.
So the cost of removing asbestos during a knock down and rebuild is treated as a necessary part of the demolition phase and given that there are so many different asbestos removal providers available, most homeowners are able to find a competitive price.
However, upcoming regulation changes are very likely to change this and could increase the costs of asbestos removal services.
Changes to asbestos removal regulations
From 1 May 2021, low density asbestos fiber board (LDB), also known as asbestos insulating board, will be classified as a friable material. This means LDB can only legally be removed by a Class A asbestos removal license holder.
Previously, LDB was classified as a non-friable material and Class B providers were allowed to remove and dispose of it.
LDB is a very common asbestos containing material. It was manufactured from the 1950s to the 1970s as flat and perforated sheet products and was used for wall and ceiling panels, thermal and acoustic insulation, fire protection and for general building works.
Now that only Class A providers can remove LDB, it is likely that the costs of carrying out this work could increase.
As we mentioned above, there are more Class B providers than there are Class A providers. So with there being fewer qualified providers available to handle LDB than there was before, and with more demand for their services, Class A license holders may increase their prices.
If you're in the early planning stages of a knock down and rebuild, it's worth your while to consider this May 1 deadline and whether it's feasible for you to sign a contract for a rebuild prior to the legislation coming into effect in order to save yourself some costs.
However, if this is not going to be a possibility for you, then you should at least keep in mind that asbestos removal prices will likely increase from May 1 onwards for when you do eventually get to sit down and plan out your budget.
Interested in a knock down and rebuild and want to avoid potential increased costs of the May 1 legislation changes? Talk to the team at Alphaline Homes.
At Alphaline Homes, we specialise in rebuilds. So talk to our friendly team about arranging a no obligation site inspection.
We'll evaluate both your block of land and the house through a 'builder's eye' to get an in-depth feel for their unique design challenges. This will ensure we can provide you with the right advice and a thorough understanding of the potential costs involved.
Simply click here to contact us or call 1300 584 663.