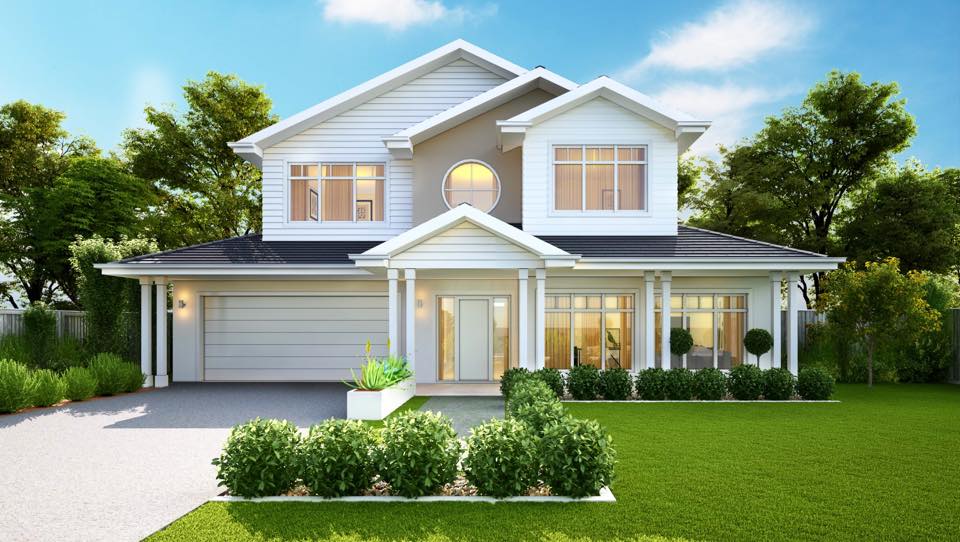 Hamptons style homes emulate an open, breezy and coastal feel. So it's really no surprise that this style has been widely embraced across Australia as desirable and trendy.

The increase in popularity of the Hamptons look over recent years has made such houses hot in demand. Many people will pay good money to have a new house built and designed in the Hamptons style.

Any builder out there can build a Hamptons house, but if it isn't one of their standard designs, you can expect to be charged extra. Additionally, what you can end up paying for is a "standard" house design with a very basic Hamptons-esque façade added to the exterior.

A truly authentic Hamptons home should be custom designed and built from the ground up in order to capture all of the subtle design features associated with this timeless style of house.

In this blog post, the experts at Alphaline Homes take a look at some of the key design elements required to achieve a classic looking Hamptons home.
Exterior Design Features of a Hamptons Style Home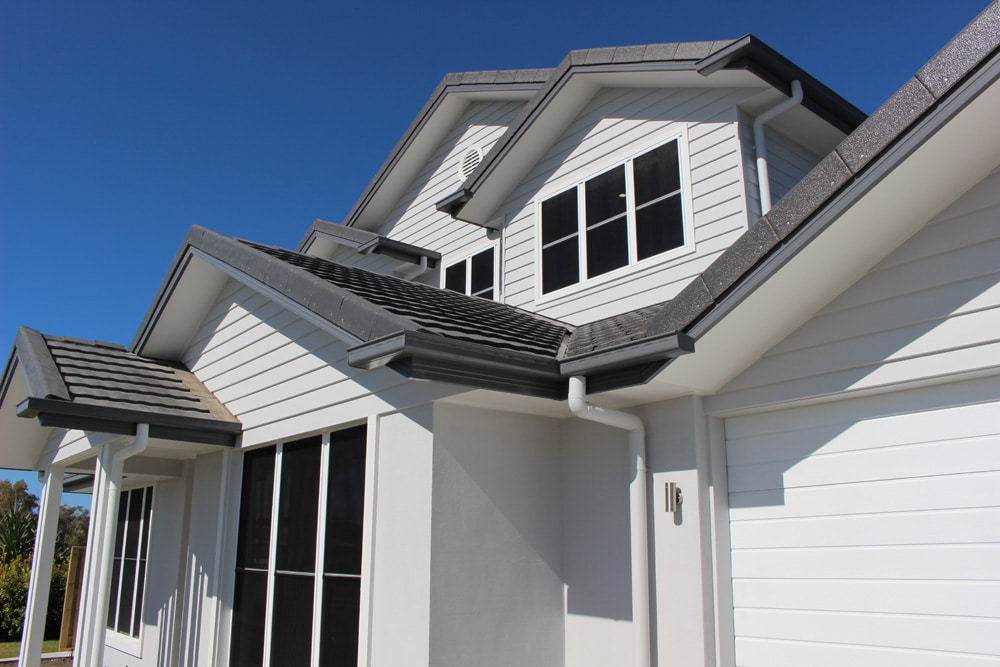 Hamptons homes have a very high street appeal and can really deliver a "wow" factor if designed with thought and attention to detail.

Here's some of the exterior features to look out for in an authentic design:

Paint colours
Most genuine Hamptons style homes use a calming white, light grey or light blue colour scheme which remind you of the beach and the coast line.

Gable roof
A key feature of a Hamptons home is a gable roof with a minimum 25° pitch. The clever use of timber trimming on the gable will give a beautiful, genuine "3D look" - a feature that has class - without looking 'overdone'.

Windows
Windows on a Hamptons style house should feature plenty of decorative touches such as Colonial bars. Most will have awning/hopper or double-hung windows rather than sliding windows.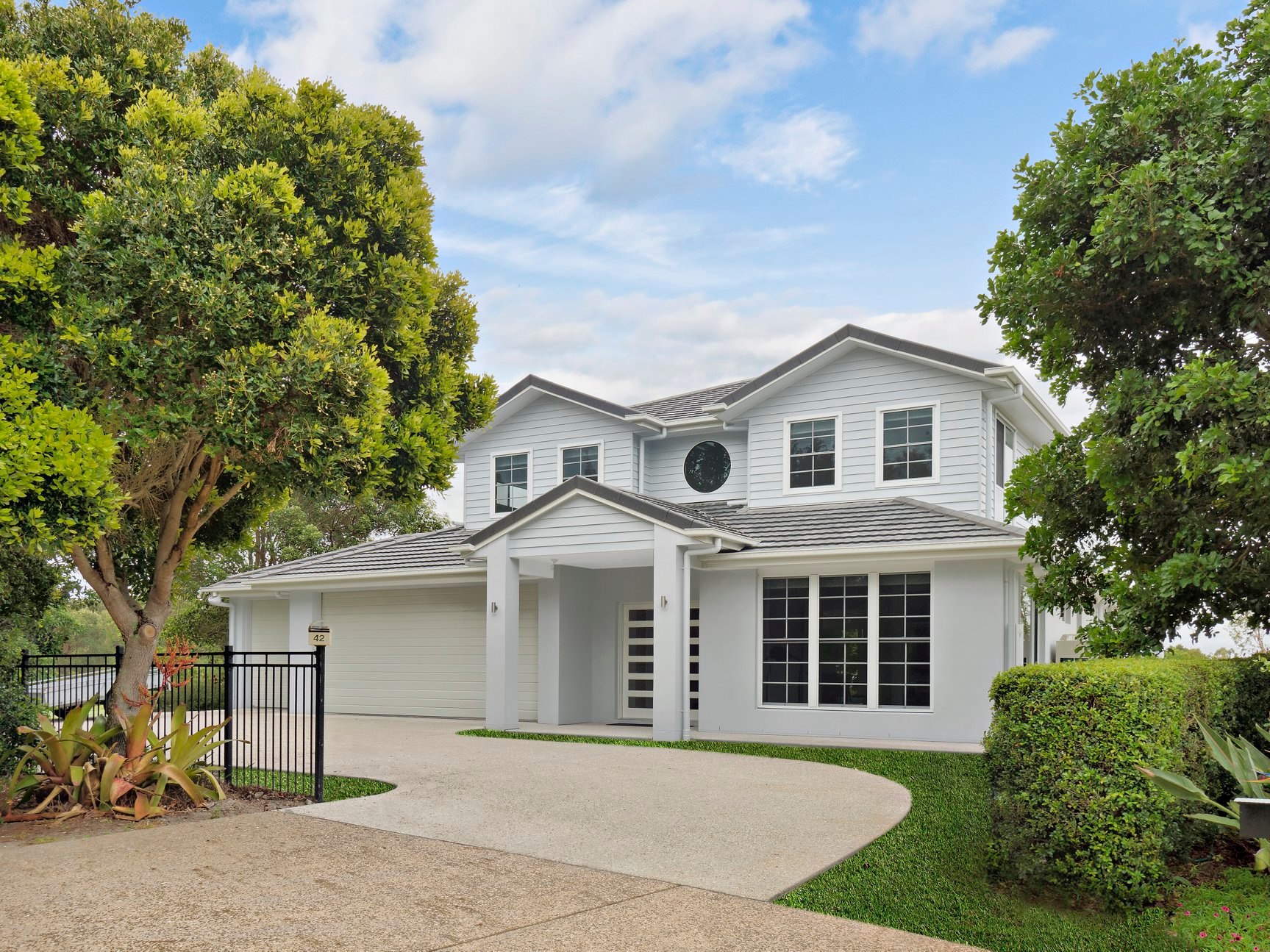 Cladding
Horizontal weatherboard is usually used, such as Scyon Linea™ weatherboard. which is a fibre cement weatherboard. The profile of this weatherboard creates consistent deep shadows and emulates the shingles of a traditional Hamptons façade. Not only does it look great, but as Scyon Linea™ weatherboard is not timber, there are no issues with rotting, decaying or white ants. So maintenance costs are significantly reduced.

Lighting
A Hamptons home should feel warm and welcoming from the outside, so getting the lighting right plays an important part in this. Outdoor lanterns which emit a warm, soft light on either side of the front door are a popular choice. For fixtures, clear or frosted glass create a beautiful look.

Embellishments
The best Hamptons style houses feature plenty of decorative embellishments such as square or Shaker style pillars, window trims, square balustrades and eaves with lining boards.
Interior Design Features of a Hamptons Style Home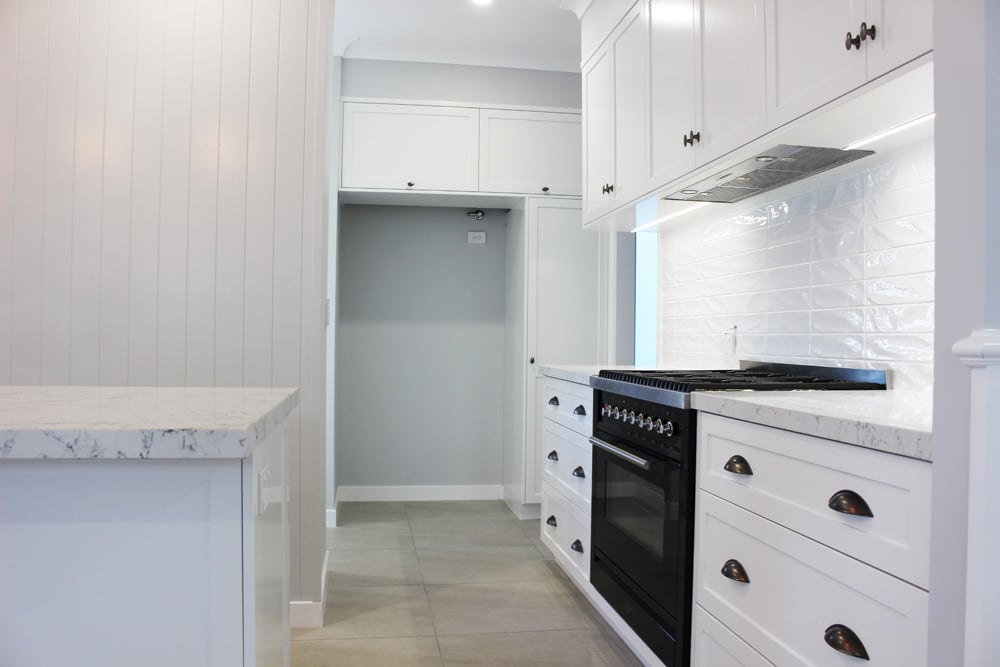 A beautiful Hamptons style home which looks great on the outside needs a stunning interior to match.

Here's some of the interior features to look out for in an authentic design:

Ceilings
High ceilings are a trademark feature of the Hamptons look in order to create that sought after open and breezy feel. They are usually designed to be around the 3.1m – 3.2m mark.

Cornices
The trim located at the meeting points between the walls and the ceiling are usually highly decorative, ornamental and colonial in style.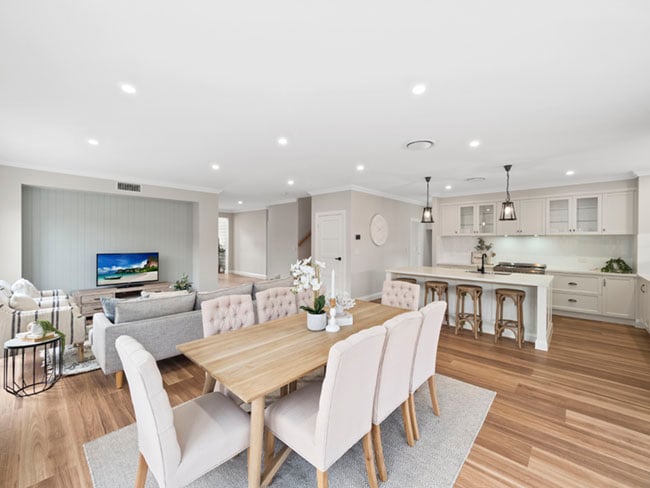 Mouldings and Skirting Boards
Wide timber moulding is commonly used along hallways, staircases and above doors. Skirting boards are typically high with big rounded profile features.

Cabinetry
Look for classic style "Shaker" doors on cabinetry in the kitchen and bathroom. Shaker doors are designed with a flat central panel surrounded by a raised square frame and add another level of depth and detail.

Panelling
Full length vertical panelling should be used for the walls, such as VJ Board, painted in a glossy white.

Floors
Flooring in living areas should be timber. Here's a tip - to get the same look without dealing with the drawbacks of timer, timber style vinyl planking can be used instead. This type of flooring offers low maintenance, is easy to clean and doesn't easily scratch. Plus, it looks great too.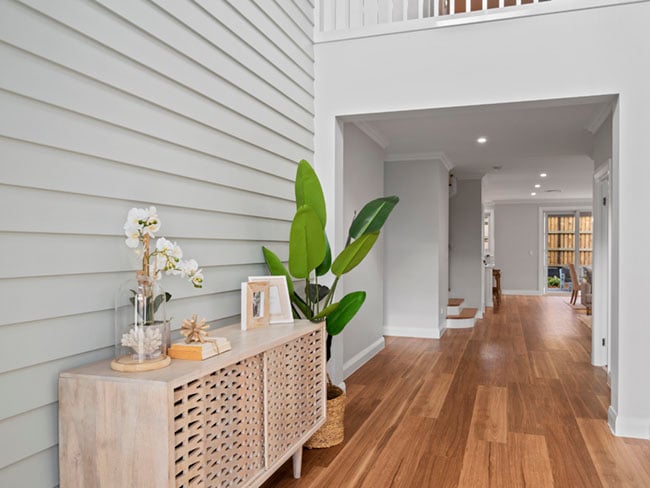 In love with the Hamptons style? Alphaline Homes can custom build the home of your dreams.
Our team of custom home builders have extensive experience designing and building authentic Hamptons style homes featuring high attention to detail and quality materials.

If your looking for some inspiration, click here to view our range of custom home designs. These designs allow for all the personalisation that your heart desires. Simply choose the home design which is the most similar to what you want and we will work with you to customise the design as much or as little as you like.